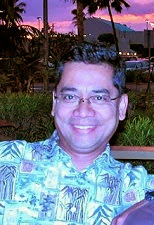 Rory Oetomo, Licensed Acupuncturist, MSTCM, Dipl.O.M., PT graduated with a Master of Science Degree in Traditional Chinese Medicine from the Colorado School of Traditional Chinese Medicine. He completed a 3 year program of 2,520 education hours including 1,095 hours of clinical training. He is nationally board certified by the NCCAOM for Oriental Medicine (Dipl.O.M.), and a licensed Acupuncturist in the State of Colorado (L.Ac.).
He is an active member of the American Association of Acupuncture Oriental Medicine (AAAOM) , the Acupuncture Association of Colorado (AAC) and the American Physical Therapy Association (APTA). Rory also holds a Baccalaureate of Science Degree in Physical Therapy (BScPT). He has over 25 years experience in rehabilitation and has been in private practice for the past 20 years treating orthopedic and sports related conditions. With a background in physical therapy and Traditional Chinese Medicine, Rory is able to integrate his training and experience in both therapies and believes in the benefits of treating the patient naturally with no harmful side effects.
"My focus is on re-establishing harmony and balance within the mind, body, and spirit of each individual. I strongly believe that prevention of disease and eliminating pain and stress often requires a holistic approach." Rory has had great success in treating patients with chronic fatigue syndromes, chronic upper respiratory conditions, chronic pain, hypertension, women's health, stress/anxiety, insomnia, weight loss, addictions, ADD, PMS/menstrual problems, menopause and orthopedic and sports injuries. His patients have made excellent gains with a broad use of the appropriate traditional modalities such as acupuncture/moxibustion, Chinese herbal medicines, Chinese massage, diet and lifestyle counseling to name a few.
We welcome visitors to our Integrative Medicine Facility which is conveniently located in Highlands Ranch. We have created a relaxing, friendly, and private atmosphere which looks and feels very comfortable – just like home. We are away from suburban noise and traffic in a very quiet and peaceful location.